This may be a significant
Beethoven
anniversary year, but
Bach
still looms large for many people, as a few of this month's selections prove. There are two new readings of the Goldberg Variations: one by the idiosyncratic
Lang Lang
, the other a novel transcription by harpist
Parker Ramsay
. The piano duo
Tal and Groethuysen
worked with composer Reinhard Febel on his interpretation of
The Art of the Fugue
. Other highlights of recent releases include a new staging of Britten's Peter Grimes;
Eric Whitacre
's choral cycle
The Sacred Veil
; and the venerable
Seiji Ozawa
, now in his mid-eighties, conducting -- what else? -- Beethoven!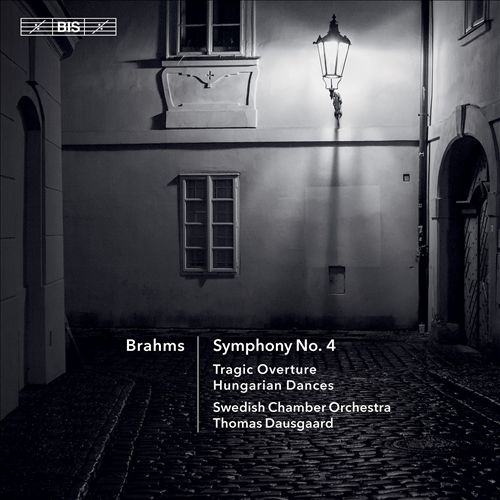 Accentus, Fran?ois-Xavier Roth, Les Siècles -
Camille Saint-Sa?ns: Le Timbre d'Argent
Akademie für Alte Musik Berlin, Georg Kallweit -
Handel: Concerti Grossi Op. 3
ARC Ensemble -
Music in Exile: Chamber Works by Walter Kaufmann
Craig Armstrong, Calum Martin -
The Edge of the Sea
Joshua Bell -
At Home with Music
Alexey Birkus, Elisa Balbo, Fabrizio Maria Carminati -
Rossini: Mo?se
Ivor Bolton, Mozarteumorchester Salzburg -
Joseph Haydn: Il Ritorno di Tobia
Cappella Romana -
Lost Voices of Hagia Sophia
Renaud Capu?on, Gautier Capu?on, Frank Braley -
Beethoven: Piano Trios - Archduke, Ghost
Ray Chen -
Solace
Cupertinos, Luís Toscano -
Duarte Lobo: Masses, Responsories & Motets
Thomas Dausgaard, Swedish Chamber Orchestra -
Brahms: Symphony No. 4; Tragic Overture; Hungarian Dances
Tabea Debus -
Ohrwurm
Gustavo Dudamel, Los Angeles Philharmonic -
Charles Ives: Complete Symphonies
Duo Tal & Groethuysen -
Reinhard Febel, J.S. Bach: 18 Studies on "The Art of the Fugue"
Kevin John Edusei, Münchner Symphoniker -
Franz Schubert: Symphonie Nr. 3; Symphony Nr. 7 E-Dur
Byron Fidetzis, Athens Philharmonic Orchestra -
Vasily Kalafati: Symphony in A minor; Légende; Polonaise
Iván Fischer, Budapest Festival Orchestra -
Mahler: Das Lied von der Erde
Inna Galatenko, Oleg Bezborodko, Lithuanian National Symphony Orchestra, Christopher Lyndon-Gee -
Silvestrov: Symphony No. 7; Ode to a Nightingale; Piano Concertino
Lukas Geniu?as -
Chopin: Mazurkas; Sonate No. 3
Grossman Ensemble -
Fountain of Time
Katia Guedes, Anna Gütter, Kammerakademie Potsdam, Vladimir Stoupel -
Mieczyslaw Weinberg: Wir Gratulieren!
Huelgas Ensemble, Paul Van Nevel -
The Magic of Polyphony
Kristine Hurst-Wajszczuk, Denise Gainey -
Lori Laitman: The Secret Exit; Kalmen Opperman: Un seul; Diana Rosenblum: Winter Rain
iSing Silicon Valley -
Here I Stand
Vladimir Jurowski, Sarah Connolly, Robert Dean Smith, Rundfunk Sinfonieorchester Berlin -
Mahler: Das Lied von der Erde
Isaac Karabtchevsky, S?o Paulo Symphony Orchestra -
Carmago Guarnieri: Ch?ros, Vol. 1 - Seresta
Junhong Kuang, Czech Chamber Philharmonic Orchestra Pardubice, Darrell Ang -
Rodrigo: Concierto de Aranjuez; Ponce: Concierto del sur; Garcia: China Sings!
Piers Lane, Goldner String Quartet -
D'Erlanger, Dunhill: Piano Quintets
Lang Lang -
Bach: Goldberg Variations
Fran?ois Leleux, Emmanuel Strosser -
Bienvenue en France
Los Angeles Master Chorale, Eric Whitacre -
Eric Whitacre: The Sacred Veil
Ursula Paludan Monberg -
The Early Horn
Seiji Ozawa, Saito Kinen Orchestra -
Beethoven 7, Leonore 3
Pacifica Quartet, Chris Murphy -
Contemporary Voices
Emmanuel Pahud, Orchestre National de France -
Alexandre Desplat: Airlines
Emmanuel Pahud, Paul Meyer, Daishin Kashimoto -
Vienne 1900
Tobias Picker, Nashville Symphony, Giancarlo Guerrero -
Tobias Picker: Opera Without Words; The Encantadas
Francesco Piemontesi, Scottish Chamber Orchestra, Andrew Manze -
Mozart: Piano Concertos Nos. 19 & 27; Rondo K. 386
Philippe Pierlot, Lucile Boulanger, Myriam Rignol, Rolf Lislevand -
Monsieur de Sainte-Colombe et ses filles
Carlos Miguel Prieto, Orchestra of the Americas -
Manuel de Falla: The Three-Cornered Hat; Nights in the Gardens of Spain
Quatuor ébène-
Beethoven Around the World: The Complete String Quartets
The Queen's Six -
Journeys to the New World
Parker Ramsay -
Bach: Goldberg Variations
Riga Cathedral Choir School Mixed Choir, Jurgis Cabulis -
Jan?evskis: Aeternum
Fran?ois-Xavier Roth, Les Siècles -
Beethoven: Symphony No. 5; Gossec: Symphonie à 17 parties
Christopher Rountree -
Missy Mazzoli & Royce Vavrek: Proving Up
Arash Safaian, Sebastian Knauer, Zürcher Kammerorchester -
This Is (Not) Beethoven
Rapha?l Sévère, Paul Montag -
On Tour
The Sixteen, Harry Christophers -
Henry Purcell: Royal Welcome Songs for King Charles II, Vol. 3
Stuart Skelton, Erin Wall, Edward Gardner -
Britten: Peter Grimes
Kian Soltani, Staatskapelle Berlin, Daniel Barenboim -
Dvo?ák: Cello Concerto
Robert Spano, Atlanta Symphony Orchestra -
Michael Gandolfi: Imaginary Numbers; Richard Prior: … of shadow and light …; James Oliverio: Dynasty
Spektral Quartet -
Experiments in Living
Choir of St John's Cambridge, Andrew Nethsingha -
Finnissy: Pious Anthems & Voluntaries
Liza Stepanova -
E Pluribus Unum
Christopher Tin, Royal Philharmonic Orchestra -
To Shiver the Sky
Trio Wanderer, Ekatarina Semenchuk, Christophe Gaugué, Catherine Montier -
Shostakovich: Piano Quintet; Seven Romances on Poems by Alexander Blok
World Choir for Peace, Nicol Matt, Lavinia Meijer -
Peaceful Choir: New Sound of Choral Music
Xuefei Yang -
Sketches of China